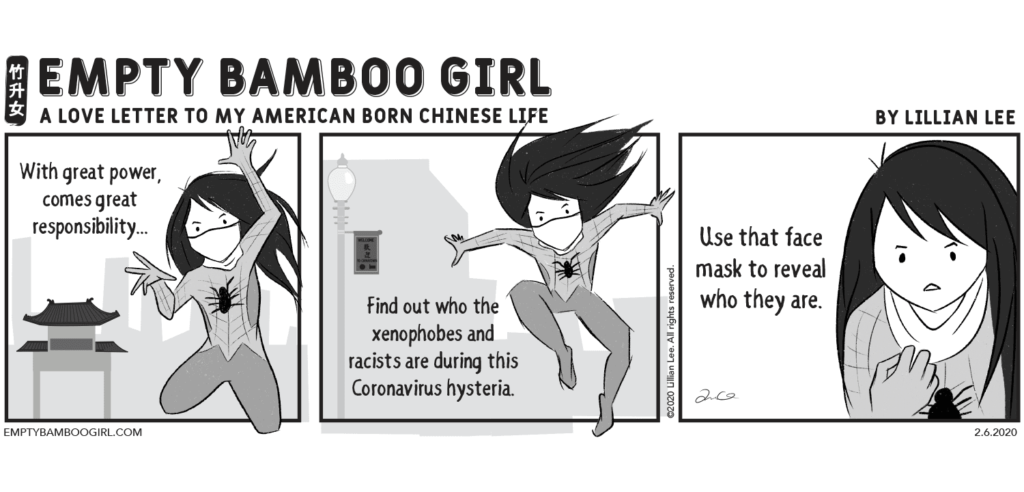 It's a great time be an Asian and Asian American. Coronavirus hysteria is in full force and you can feel extra long looks on you as you're out and about.
And, if you happen to have a bad cold right now? You might as well be infected with the plague – even though the regular flu is more of a killer, but, hey, racism and xenophobia can erase sound judgment.
---
Get the latest comics sent to your inbox along with news and shop updates. Sign up for the EBG newsletter now.
---
In this week's comic, I wanted to off of Spider-Man's iconic quote, "With great power, comes great responsibility" and mash it up with Silk / Cindy Moon who wears a mask. As we all know, masks are a hot item right now as they are now sold out at local drugstores AND they're even sparking hate – a woman wearing a face mask in NYC was beaten for it in a hate crime.
Anyhow, stay safe out there and keep track of the racists. Maybe even cough a little at their way. Check out Michael Tow's latest video "Coughing While Asian Corona Virus:"
* * * * * * *
This latest comic was published in the February 7, 2020 issue of Sampan Newspaper, The only bilingual Chinese-English newspaper in New England.